Cash for 4WDs & Trucks in Rotorua
We pay Cash for Cars & offer Free Car Removal
Do you have any unwanted vehicle sitting in your garage for long?
Are you looking to for someone to pick up your car for wrecking?
Do you want to sell your car quickly and on the same day?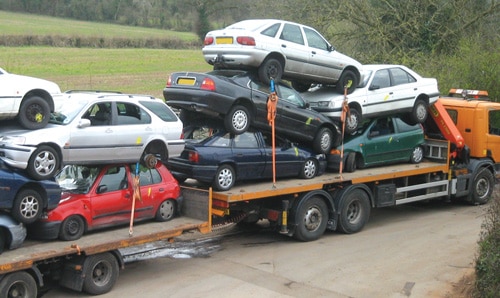 That's no small bag of peanuts!  We pay top cash for unwanted car removals in Rotorua.  The best part?  There's no waiting around for funds to be transferred into your account, or for a check to arrive in the mail.  We bring the cash with us when we arrive to perform your unwanted car removal in Rotorua. Car Wreckers Rotorua have over 15 years experience in damaged car removals in Waikato & Bay of Plenty regions.
How To Sell Your Car For Wrecking?
Thanks to our Car Wreckers Rotorua service, we purchase and accept all Japanese, American and European makes and models in any condition.
At Car Wreckers Rotorua, we accept any make and model.  That means, whether you have an old Nissan Navara, Mitsubishi Pajero, Toyota Hilux or any other make and model of a vehicle, we will come to your location and remove it at no cost.  Best of all, we pay cash for its removal.  Up to $9,000.
In order to have your car removed from your property, you need to get free price evaluation from our expert. You have the following options to do:
Too Old?  No Problem!

When you call us, there's never a problem with the age or condition of your vehicle.  We accept any year of the vehicle, as well as any condition.  Don't fret about making repairs, or shining the vehicle to prep it for sale.  Just give us a call at the number above and we'll gladly offer you a top cash offer on your vehicle, AS IS.  We don't mind if the vehicle is running or not.  When you call Free Car Removal, you get top dollar on your car removal, no matter what your vehicle's condition.
We offer:
Cash For Accident Cars

Damaged Car Removals 

Cash For Car Wrecking

Van Wreckers
Car Wreckers Rotorua Purchase 4x4s and Trucks
Not everywhere will come to haul your old 4×4 away for free.  At Car Wreckers Rotorua, we do better than that!  We come to remove it for free and put up to $9000 cash in your pocket for its removal.  We are the experts you can count on to pay top dollar as we are expert 4×4 wreckers.
Car Wreckers Rotorua is a trusted source of reconditioned and recycled spare auto parts. We have a fantastic range of car parts, all inspected, cleaned, and brought back to as-new condition. All of our spares come with rock-solid quality assurances, so you can rest easy.
You can find refurbished parts in like-new condition when you come to Car Wreckers Rotorua. We provide only the best in spares and replacements for old and new cars alike, so you can save money and keep your vehicle running smoothly.